Programmatic Advertising – an abstract term, which is causing rather diffuse associations such as "data", "efficiency" or "robots" instead of clear ideas, even among marketers. Yet it is not that complicated. After this briefing you will understand which actors are involved and how Real Time Bidding, the most common Programmatic advertising method, works.
The term Programmatic Advertising originates from online marketing and stands for the automated purchase, sale, optimisation and display of online advertising media in real time. It is based on various user data and intelligent algorithms that control the entire process. If you would like to know more about the historical background of Programmatic, read here.
How does Programmatic Advertising work?
Every time users see customized advertising content on a website, numerous processes run in the background. That's because the advertising content depends not only on the theme of the website, but also on your individual user data.
This data is based, for example, on the respective online surfing behaviour or demographic parameters. What kind of advertising message users see therefore depends on their age, gender, location or online purchasing behaviour and also takes into account, for example, whether they have visited the website in question before.
The actual process of selling advertising space is then often carried out via Real Time Bidding (RTB). This procedure uses an automatically controlled auction process that controls the purchase and sale of the advertising media.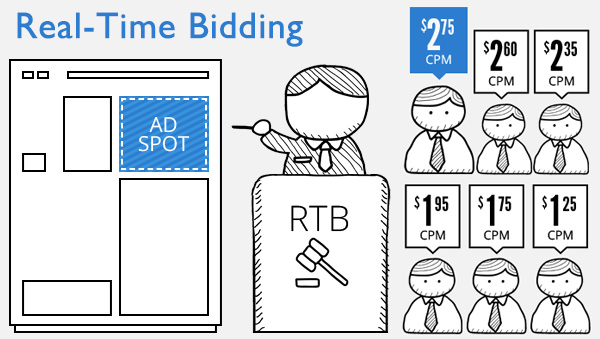 If an Internet user opens a website, the user data is sent to a so-called Ad Exchange. This online marketplace is where advertisers meet with their demand and publishers with their supply of advertising space. Put simply, this technology platform then evaluates the existing bids for an ad space on the website.
This is because advertisers determine a bid and details of the target group in advance. The ad space is allocated to the highest bidder in the course of real time bidding and is directly filled with advertising. This auction process takes only a few milliseconds and takes place during the loading time of a website.
In addition to real time bidding, you can also use other transaction models such as Automated Guaranteed. With this method, fixed advertising spaces can be booked at a predefined fixed price. As an advertiser, you determine certain parameters for this purpose, at which your advertising is played out.
What kind of platforms do we need in the process?
In order for the automated and data-driven purchase and sale of advertising inventory to work at all, several platforms interlock. The Supply Side Platform (SSP), Demand Side Platform (DSP) and Data Management Platform (DMP) therefore form the technological basis for the entire process.
Data Management Platform
With the help of the data management platform, user data can be collected, managed and used. The data can be, for example, obtained from CRM databases or cookies. This data then helps you to place the right ads on the right advertising spaces.
Demand Side Platform
The Demand Side Platform is the counterpart of the SSP. This platform helps advertisers to find suitable advertising spaces based on individual goals, budget and user data. The DSP therefore ensures that the advertiser receives the best possible ad space.
Supply Side Platform
The Supply Side platform forms the technological infrastructure for the supply of advertising space. On this platform publishers can list their advertising inventory for a self-determined minimum price and release it for trade. The automated process allows the advertising spaces to be sold as profitably as possible.
Take-Away
Programmatic Advertising has many advantages: it is an automatic procedure, the target group is addressed directly and the ad spend is therefore spent more efficiently. Also, you get more flexibility in planning your campaigns as you can modify and optimise your campaign objectives in real time. Since national and international networks or channels can display Programmatic advertising, companies can target their potential customers internationally.
Programmatic Advertising not only makes the placement of ads more precise, but also significantly easier. Thanks to sophisticated technology, you can reach a very concrete target group with the least possible effort, which significantly increases the probability of clicks and conversions. This way you invest your advertising budget as flexibly and efficiently as possible.
Although programmatic spend is on the up and up, for many marketers, lack of understanding of the way programmatic advertising works is a huge hindrance. Contact us now to help you with your next Programmatic campaign!